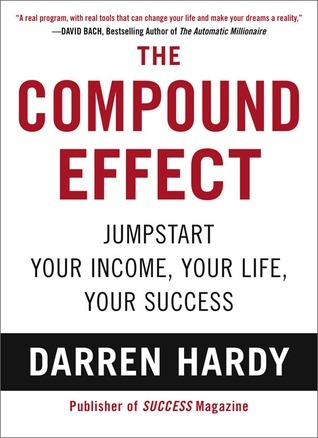 JUMPSTART YOUR INCOME, YOUR LIFE, YOUR SUCCESS
Today we will discuss a simple equation that will produce radical differences in your life, the dangers of success, why self-responsibility and tracking everything is the key to unlocking new levels of success and 3 tips to maximize your life!
P.S. Thank you Anthony James for getting me my first copy of The Compound Effect! Thanks to you, Darren Hardy is now one of my favorite authors!
Get the book
"We are constantly bombarded with increasingly sensational claims to get rich, get fit, get younger, get sexier… all overnight with little effort for only three easy payments of $39.95. These repetitive marketing messages have distorted our sense of what it really takes to succeed. We've lost sight of the simple but profound fundamentals of what it takes to be successful.
I'm tired of it. I won't site back and watch these reckless messages derail people any longer. I wrote this book to take you back to basics. I'm going to help you clear the clutter and bring focus to the core fundamentals that matter. You can immediately implement in your life the exercises and time-tested success principle this book contains to produce measurable and sustainable results. I'm going to teach you to harness the power of the Compound Effect, the operating system that has been running your life, for better or worse. Use this system to your advantage and you truly can revolutionize your life."
– Darren Hardy from The Compound Effect